An exploration of professional relationships in the service of psychotherapy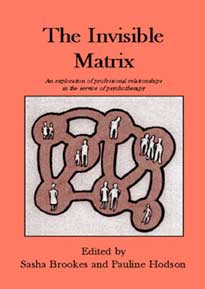 Both therapists and patients operate in a wonderfully complex web of relationships, a formative field as formative and powerful as it is unspoken. This field is as strong and powerful as the unconscious itself.
The book demonstrates to therapists and patients how the web of relationships in the wider world shapes our behavior in the consulting room. We are much more social than we might like to believe — a notion that has radical implications for theraputic practice in all its forms.
"This volume contains some beautiful, concise and accessible summaries of key concepts.... It will reward careful study and should be on the required reading list for established psychotherapists as well as those in training."
Christopher Clulow
"This book, like all good psychoanalytic writing, explores and explodes a comparable myth that therapy is simply about one patient, one therapist and no one else. ... This is an original and disturbing book that will deservedly find its place on the reading list of all thoughtful therapists."
Jeremy Holmes
Click here to purchase this title.
Also see The Business of Therapy